Manic Monday at Wimbledon
Many people view Manic Monday – Day 7 at Wimbledon – as the greatest day in the entire tennis calendar.
Yes, seasoned tennis-lovers often pick it as the most special day of all – ahead of the finals at Wimbledon, Roland Garros, Flushing Meadows or Melbourne.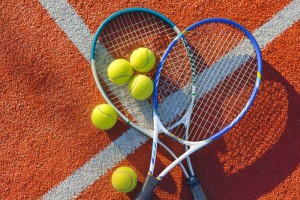 Better than any tennis day, anywhere on the planet.
What, we hear you say? How can that be? After all, on the face of it, Manic Monday is just the half-way stage in a tournament where the biggest drama is yet to come.
Depends on how you look at it. Depends what you're looking for. Or, more importantly, depends WHO you're looking for.
Because on Manic Monday, the odds are heavily stacked in your favour, meaning you're highly likely to find him or her…the star of your dreams.
Yes, Manic Monday pretty much guarantees that whoever your favourite player is, from Roger Federer to Serena Williams, he or she will be playing that day.
Unless your most loved tennis superstar has suffered the shock of an early-round knockout, you'll be able to watch him or her on Centre Court or Court One at the All England Club on Manic Monday.
That's because ALL fourth-round (or round-of-16) matches in the men's and women's singles are played on the SAME DAY.
That's what makes Wimbledon so unique!
No wonder they call it Manic Monday! So many glittering stars to fit onto the show courts. How do they find the time? It's crazy!
And it's also one good reason why Wimbledon sees fit to take the previous day – the middle Sunday – off. They know what's coming. And it just adds to the burning anticipation!
But remember, this is also England. Every so often, Manic Monday gets complicated by rain, with Court One not yet covered by a roof. Saturday washouts have also occasionally upset the applecart too, with matches carried over to spice up the Manic Monday schedule.
But if all goes according to plan – and last year it certainly did – you can look forward to the greatest tennis show on earth, with all the in-form players, men or women, thrilling the crowds on the very same day.
Can anything beat Manic Monday? Amazing, isn't it?
Buy tickets for Centre Court AND Court One for that day and you will surely see the greatest players in action. You can switch courts at will, take in the very best of the drama – and have memories of your favourites to cherish forever.
Buy tickets to Centre Court OR Court One and you know you'll still be treated to something very special indeed in superb surroundings, entertained by some of our sport's true legends.
It's almost hard to imagine so much excellence in one place at one time, isn't it?
So let's take a quick look at what Manic Monday had to offer at Wimbledon 2015:
The first match on Centre Court was: Serena Williams v Venus Williams. Wow! What an opener!
Next up on Centre Court came home favourite Andy Murray, who played the giant Croatian, Ivo Karlovic.
And then we were treated to the great Roger Federer, who beat Roberto Bautista Agut in stunning style.
Over on Court One we began with Maria Sharapova against Zarina Dyas. Then the pugnacious Stan Wawrinka, complete with that beautiful one-handed backhand, took on the enigmatic Belgian, David Goffin. This was followed by what turned into a true classic – Novak Djokovic, the world's greatest player, against Kevin Anderson.
Can you see yourself getting a piece of all that unbeatable action, seeing all those legendary players, on the same day?
It doesn't happen anywhere else in the world.
For the record, the other quarters 2015 were played on Courts 2, 3, 12 and 18. On Court 2 we saw Richard Gasguet play Nick Krygios, Caroline Wozniacki take on Garbine Muguruza, then Tomas Berdych face Gilles Simon.
The likes of Agnieszka Radwanska and Marin Cilic were to be found on Court 3, while Court 12 hosted Victoria Azarenka and Court 18 hosted Madison Keys.
The sporting riches on offer on Manic Monday are truly mind-boggling.
See why some call it the greatest day of all? Would you like to be part of this unique day at Wimbledon 2017?
Call us and talk to our advisors to discuss your options, or click across to our "Wimbledon Tickets 2017" page and see the latest prices for Manic Monday – Wimbledon Day 7.
Images courtesy of www.shutterstock.com